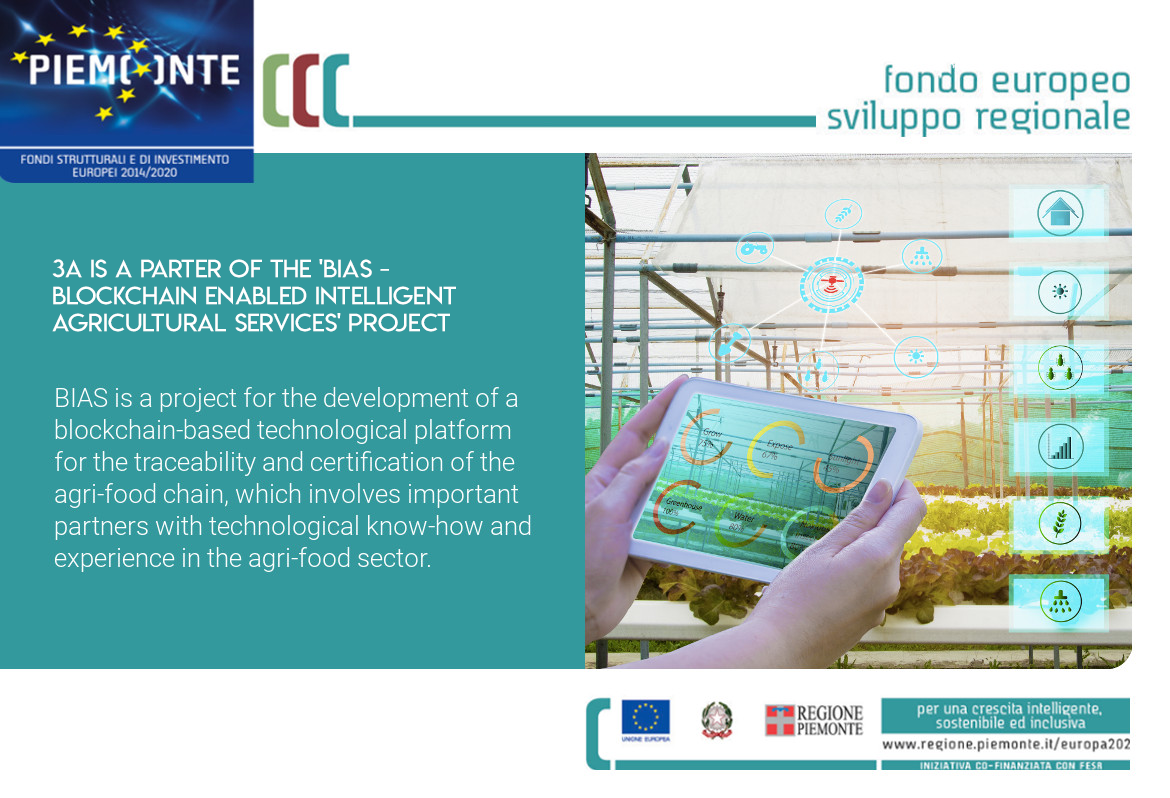 3A is partner of the BLOCKCHAIN ENABLED INTELLIGENT AGRICULTURAL SERVICES (BIAS) Project, which aims to ensure food safety, data integrity and transparency through the development of a platform based on blockchain technology.
Blockchain technology plays a vital role in the traceability and certification of agri-food products through the monitoring of their life cycle; it can also be instrumental in increasing the rate of digitisation of enterprises, promoting their efficiency and competitiveness in rural economies and agri-food districts.
The partners of 3A Srl in BIAS are DGS SpA (lead partner), Netvalue Srl and two Research Organisations: the University of Genoa and the Agricultural Research Foundation AGRION.
The kick-off meeting of the project was held on 19 May in live streaming and the analysis and development tasks are now underway.
Within the project, 3A offers its expertise in the agricultural domain for describing its specificities, the roles of the different actors, the information flow and the documentation used in process management, in order to identify the transactions to be registered in the blockchain. It also contributes to assessing the usability of new applications in the management of production processes, the potential of integrating new technologies with the applications already used, and will finally conduct tests of the solutions in the agricultural and agri-food companies involved in the project.
The BIAS project is financed by Regione Piemonte within the PRISM-E Call for Proposals, supporting the implementation of industrial research and experimental development projects, POR – F.E.S.R. 2014/2020.
To learn more, read: BIAS